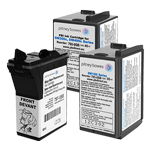 Franking Machine Ink Cartridges
Pitney Bowes Franking ink is designed for your franking machine to provide crisp, clean impressions with every send.
Using genuine Pitney Bowes ink cartridges in your franking machine ensures optimal performance and a longer life for your equipment. Our advanced formulas surpass Royal Mail® and courier company requirements, giving you peace of mind that your envelopes have the best possible print quality.
Plus, original Pitney Bowes ink cartridges are tested in millions of cycles for outstanding readability and performance, so you can be sure that your impressions will always look great.
Genuine Pitney Bowes ink is the only choice if you want to get the most out of your franking machine and maintain a professional corporate image with every send. Get genuine Pitney Bowes franking machine ink today!