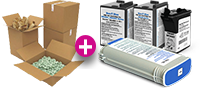 Save 20%

on franking machine ink
when purchased with products from our new packaging range*

*Offer ends at midnight on 26-01-21. Minimum £100 spend on packaging orders.
Discount applies to online orders only. Does not combine with other discounts or contract pricing.
Includes Void Fill, Bubble & Stretch Wrap, Protective Envelopes, Mailing Boxes & Cartons, Packaging Tape & Tape Dispensers.
Item #PB257711
**NEW** AirSac Inflatable Cushioning - Six Wine Bottle Kit - 720x820mm - pk25
Innovative new inflatable cushioning sleeve for protecting products during shipping.
Size - 720x820mm.
Easy to inflate and package.
Provides cushioning and minimizes damage.
Clear colour Airsac with a brown box.
Pack of 25 AirSacs and boxes.
AirSac is an innovative new product that has been designed to fully protect your goods when shipping. This product has been developed specifically for use with bottles, to make sure that they arrive at their destination safely and securely. They are easy to inflate and use with the AirSac hand pump (sold seperately).