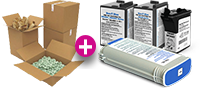 Save 20%

on franking machine ink
when purchased with products from our new packaging range*

*Offer ends at midnight on 26-01-21. Minimum £100 spend on packaging orders.
Discount applies to online orders only. Does not combine with other discounts or contract pricing.
Includes Void Fill, Bubble & Stretch Wrap, Protective Envelopes, Mailing Boxes & Cartons, Packaging Tape & Tape Dispensers.
Item #793-5SB
Pitney Bowes Franking Ink Cartridge - Blue - DM100i, DM200i Series
Pitney Bowes Genuine Ink Cartridge - Blue - for DM100i, DM125i, DM150i, DM160i, DM175i, DM200i, DM220i Franking Machines
Phone Price: £136.95
You get the best deal online...
Online Price
Cartridges
1
2-3
4
5+
Your Price (excl. VAT)
£130.10
£126.95
£121.95
£116.95
Your Saving £
£6.85
£10.00
£15.00
£20.00
Your Saving %
5%
7%
11%
15%
Why use genuine Pitney Bowes ink?
When you print on your envelopes, it's critical to your business that the print quality is accurate, clean and readable. That's why you should look to original Pitney Bowes ink when printing your envelopes to enhance the professional image of your business.
Genuine Pitney Bowes franking machine ink. Enjoy quality impressions.
Tested in millions of cycles for outstanding readability and performance*.
The only ink formulated specifically for Pitney Bowes equipment
Meets or exceeds Royal Mail® and courier company requirements.
Optimises the number of envelopes you can print with each cartridge.
Cartridge does not prematurely dry up.
For results your business can rely on, we recommend using only genuine Pitney Bowes supply products within our product line.
All our ink is genuine Pitney Bowes postage meter ink to be used in the DM100i, DM160i, DM220i, DM200i postage meters. Pitney Bowes supplies are designed and tested within their respective postage meters. All our ink cartridges provide reliable and outstanding print quality performance, that help your envelopes achieve a more professional look.
*Actual ink yields vary with usage and environmental conditions.