Item #793-5SB
Pitney Bowes Franking Ink Cartridge - Blue - DM100i, DM200i Series
Pitney Bowes Original Ink Cartridge - Blue - for DM100i, DM125i, DM150i, DM160i, DM175i, DM200i, DM220i Franking Machines
Use promo code
SAVEIT
, at checkout.
Buy 1 cartridge and save 20%.
Buy 2 cartridges and save 25%.
Buy 3 cartridges and save 30%.
*Sale ends at midnight on 06/06/17.
When you frank an envelope you're printing money - so it's important that the print quality doesn't let you down. Our franking inks are tested in millions of cycles, for outstanding reliability and performance, and approved by the postal authorities to run efficiently through their mail processes.
Pitney Bowes original blue franking inks are designed to work with your Pitney Bowes DM100i and DM200i Series franking machine which means they never clog up, never jam, and never lose quality. But we don't just guarantee our products - we back it up with a one-year, no hassle warranty.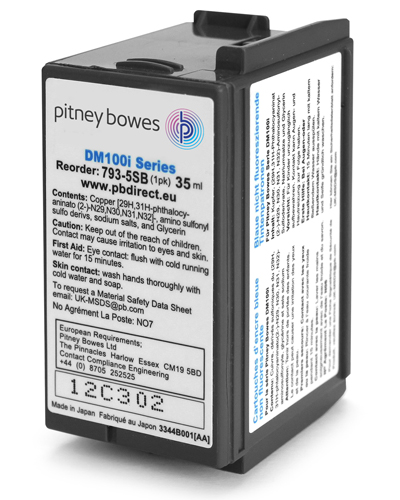 You may also be interested in: