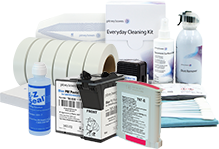 15% Off

franking machine supplies. Use code: FLASH15

Includes franking ink, labels, envelopes, sealing solution & cleaning kits

Sale ends at midnight on 16/03/21. Discount applies to online orders only. Does not combine with bundles, meter mail envelopes, other discounts or contract pricing.
Item #SL-EU1
SmartLink™ - DM Series Ethernet/WiFi Digital Connectivity Kit
Free upgrade to a digital connection for DM Series franking machines.
* Offer limited to 1 SmartLink™ unit per site.
* To order multiple devices, please contact 08444 992 992 (option 2).
* Please order SmartLink™ separately from your other supplies.
It's time to go digital with SmartLink™.

Access postage rates, rate changes and software updates automatically by connecting your DM Series franking machine digitally to Pitney Bowes, with our innovative SmartLink™ device.

SmartLink connects to your LAN (Local Area Network) via an ethernet cable or WiFi.

Need help installing SmartLink™?

Visit our support page for Setup Instructions. Alternatively, you can save valuable time by requesting support from a Pitney Bowes Service Engineer by clicking here.